well its been a while since i last wrote a little something down, so while im not busy and the kids are occupied i will let you all know how things are going..
For starters i cant believe that my babies are 14 months and 1 month!! time flies when your having fun!
DJ is doing great he loves his sister and he loves to put her binkie in her mouth. He is starting to throw temper tantrums already. If he doesnt get his way or someone leaves him, he will gently lay down on the ground and then start screaming. Its too funny. We measured him yesterday and he is 32 1/2 inches tall already, dave says that he will be over 6 feet by the time he is done growing. im wouldnt be surprised... and we tried to weigh him on my dads scale and hes around 25lbs, WOW!!! He is going to be one big boy!!! he goes in for his 15 month appt on 10/13 so we will see if were close with the height and weight.
Reagan is also doing well, she has a real good sleep pattern down. She gets up at 1am and 5am for feedings and a diaper change. But last night was horible... she was up every hour and cried the whole time. I felt so bad cause she couldnt get comfortable and she had so much built up gas from not wanting to burp. She is finally fitting into her newborn & 0-3 month clothes. She was also weighed and shes just about 8lbs... such a little peanut! She has her 2 month appt on 9/23 and she gets her shots on that visit too. :(
here are a few new pics...
BOTH KIDS WERE SCREAMING THERE HEADS OFF!!!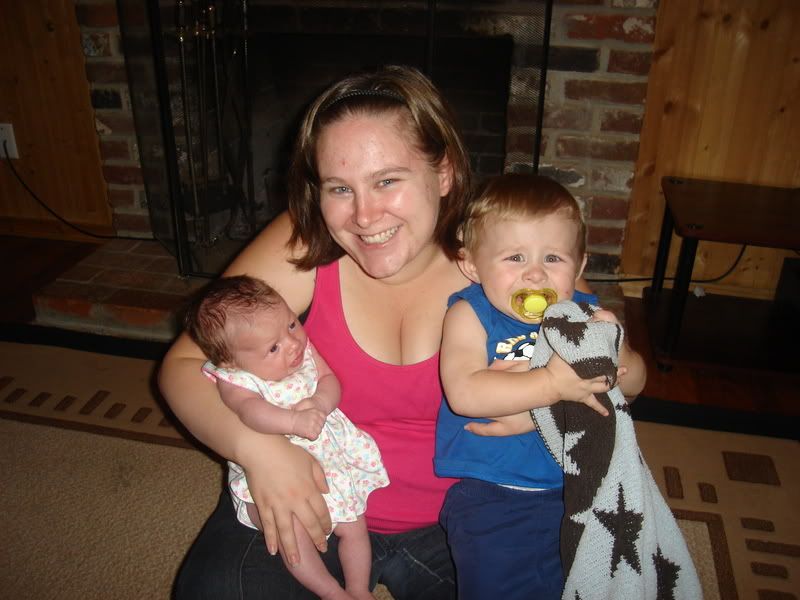 MISS REAGAN!
MR DJ ON CHEZ!