Hello March!!!
Today I am linking up with
Ashley @ Friday Letters
for the first time! These are some serious randomness.. Enjoy!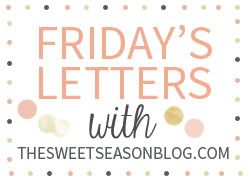 Bestie
– First off, I am so proud of you!! You and R brought such a precious bundle of joy into this world and he is an absolute doll! I love that handsome little boy already! I know things are tough right now with him in the nicu, but be strong mama.. You are one of
the
strongest people I know and I know that you can get through this, especially with R by your side. I am always here for you!
Justin Bieber
– What The F***?!? Do you seriously think this is a fabulous outfit? It looks like your mom forgot to change your diaper! I pray to god that Regs does not start liking you! I for one can't stand your ass… And your music isn't all that! I am pretty sure that if 2 Pac & Biggie were still alive, you would have absolutely no chance! Oh and not to mention all of the "
Beliebers.
" That's what they're called right? Well they need a freaking wake-up call.. If you personally do not
know
him, then you seriously need to calm your ass down!
Spring
– I would love it if you stayed! This weather is pretty amazing! I have always love california's spring and fall. Summer,
eh
, not so much.
Justin Timberlake - I am so excited that you are back!! I really, really, really want to go to their concert at Candlestick, but I doubt it will happen.. Plus, I think its freaking hilarious that Kanye West is getting jealous!
Scentsy - Oh how I love new catalogs!! Today starts the new
Spring & Summer Catalog
!! New Warmers, New Scents & New Buddies!! Seriously?!? How freaking cute are these guys!!
Hope you all have a fabulous weekend!!!!